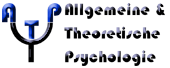 Forschung > EG-Projekt RoHMI
EG-Projekt RoHMI
Titel: "Design of Robust Human Machine Interaction".

Funding: European Community for the period 1994-1996 (Human Capital and Mobility, Contract ERBCHRXCT 930396).

Head: Dr. Joachim Funke.

Staff: Dipl.-Psych. Elena Psaralidis (IfA Dortmund).
Short Description
Central aim of this network is to bring people together from different countries and different diciplines with an interest in human-machine interaction.
RoHMI Research at Bonn
As a member of RoHMI, Joachim Funke is actually working on the following topics:
Design of robust on-screen dialogues for VCR user (together with Dipl.-Psych. Heike Gerdes, see also the OPTIMANU project).
Basic research on the learning of operating sequences (together with Dr. Burkhard Müller, see also the ALFA project).
Interface problems for disaster management software (together with Katja Wiemer) .
Using anonymous subjects on WWW for testing interface design (together with Dr. George Weir, Strathclyde University, and Dipl.-Psych. Heike Gerdes).