Experimental and Theoretical Psychology
Home Page > Research > Eye Movement > Eye Tracking Lab
ATP Eye Tracking Lab
Equipment
Eyetracker
We use an EyeLink II eyetracking system by SR Research Ltd./Canada. This system was developed by Eyal Reingold and Dave Stampe.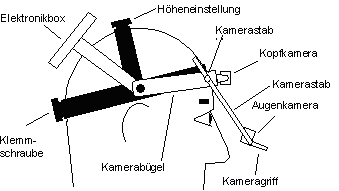 The EyeLink System performs real-time measurement of pupil position, pupil size, and marker positions acquired from headband-mounted high-speed cameras. It parses binocular eye movements into saccades, blinks, and fixations on the basis of user-adjustable parameters. The system is based on a miniature imaging sensor technology, which provides high temporal resolution of 2 or 4 milliseconds (500 or 250 samples per second) and high, spatial resolution of 0.01°.
For further information see http://www.eyelinkinfo.com
PC-Hardware und Software
We use a DELL Pentium as host PC and a display PC with a 20'' monitor.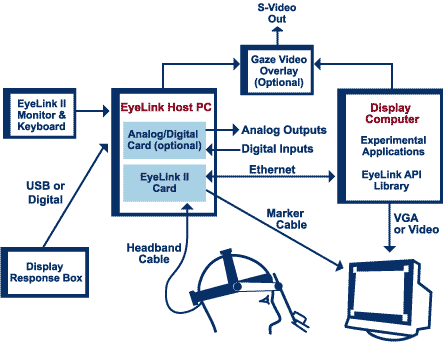 Data are presented on the monitor or are projected on a hardscreen.EyeLink Software is freeware and can be downloaded under http://www.psychtoolbox.org/ (PsychToolbox) and http://cornelis.med.rug.nl/pub/eyelinktoolbox/ (EyeLink Toolbox).We further use MatLab 5.2.1 and 6.5 (MathWorks). A description of the software and the toolboxes can be found in a paper by Cornelissen, Peters and Palmer (2002).
Staff
Director and principal investigator: * Prof. Dr. Joachim Funke

Collaborators: * Prof. Dr. Christiane von Stutterheim (Institut für Deutsch als Fremdsprachenphilologie, Universität Heidelberg) * Prof. Dr. Klaus Fiedler (Psychologisches Institut, Universität Heidelberg) * PD Dr. Babette Renneberg (Psychologisches Institut, Universität Heidelberg)

Postgraduates: * Dr. Lisa Irmen

Undergraduates: * Conrad Rau (Programming and technical support) * Katrin Claßen and Nina Schlegel (Conducting experiments and literature search)
Contact
Location: Psychologisches Institut, Alte Anatomie, A131

Joachim Funke * Joachim.Funke@psychologie.uni-heidelberg.de * Office hours: Tuesday 14-15 hrs, Thursday 14-15 hrs

Lisa Irmen * Lisa.Irmen@psychologie.uni-heidelberg.de
Research projects
Fixation patterns as indicators of hypotheses formation in complex problem solving scenarios (Joachim Funke & Conrad Rau)
Understanding noun phrases designating people: Eye movements indicating linguistic and non-linguistic influences (Dr. Lisa Irmen)
Eye tracking online resources and links
German Labs that work with EyeLink II:
* Prof. Dr. Reinhold Kliegl (Universität Potsdam) * Prof. Dr. Karl Gegenfurtner (Universität Gießen)