FloodHD
Collaborative Problem Solving is a skill of increasing interest not only in the workplace but also in large-scale assessments and for the first time will be assessed internationally in the PISA 2015 study. The "Flood" simulation is an instrument designed to assess the Collaborative Problem Solving Skills of adults in a standardized and reliable but yet mostly realistic context. It is based on the principles of the PISA 2015 Collaborative Problem Solving Framework released by the OECD combined with experiences from traditional assessment center tasks.
In the "Flood" simulation the participant is a member of a crisis management team whose goal is to protect the small town village "Mühlhausen" from an imminent river flood. The other members of the team are computer-simulated agents who the partcipant can communicate with using computer-based chat. The participant takes the role of a volunteer whose tasks consist in calculating the amount of sandbags needed to prevent the inundation of the town, planning the timbering of the sandbags and organizing the evacuation of the historic part of the town. In order to reach these goals the participant has different tools available as for example a chat room in order to communicate with the other team members, a variety of electronic information documents, a notepad, and a calculator.
The scenario is still in the validation process but will presumably be available by the end of 2013. For further information please contact Julia Hilse or Daniel Holt.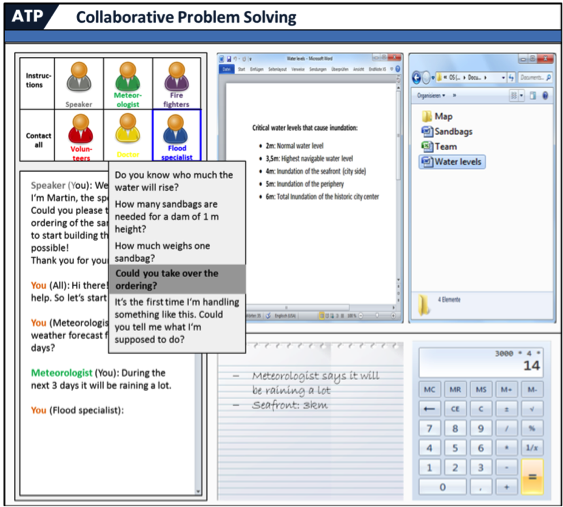 Last modified: 2013-08-01